Another
fabulous gimmick
, this time connected to the hand made marketplace Etsy. What fun!!
Bitty Bird
has invited other bloggers to join her in a Tuesday morning game of
Etsy Uno
, whereby players explore the luscious handmade wares of cool-chick type artisans there then do a little light-hearted game of relationships.
A note on Etsy: It's cool you guys. It's right up my imagination alley. It's so great, even if some people say that by now it's reached the "mainstream" status. I don't care. I'm not quite hip enough to be deliberately ironic, anyway. I just know what I like.
You can find a treasure there no matter what your style or price range. You can also find a thousand years' worth of crafty inspiration. So if you're not already a regular haunter of Etsy, please consider scheduling a few vacation days just to look around on there.
Okay.
This is my first time linking up, so I'll share her instructions here. Thanks Bitty Bird!
This is how you play:
I give you a prompt. This week, the prompt is CHAMPAGNE.
Pick one item on Etsy that relates to the prompt and add the photo to your blog post. You must give photo credit to the Etsy seller by linking back to the item in their shop. The purpose of this game is to show love to the talented artisans behind the Etsy shop and promote their original handmade products! Never, ever take a photo without giving credit where it is due.
The second item must share something in common with the first one, and subsequent choices must share something in common with the item immediately before it-- use your imagination. That's what makes this like the game "Uno"! List 5-10 items and explain or describe how one relates to the other. You never know where you might end up!
If you want to play, copy and paste these instructions to your blog post, and make sure to grab an Etsy Uno button from www.bittybird.net to promote the game: and tell your friends! Link up your Etsy Uno post at the bottom of my post every Tuesday morning, beginning at 5AM CST.
If you have the time, please take an opportunity to send a note to the Etsy sellers you found in order to let them know their product was recognized on your blog. Remember, the point is to support and encourage the hardworking artisans that inspire us every day!
1...2...3... GO!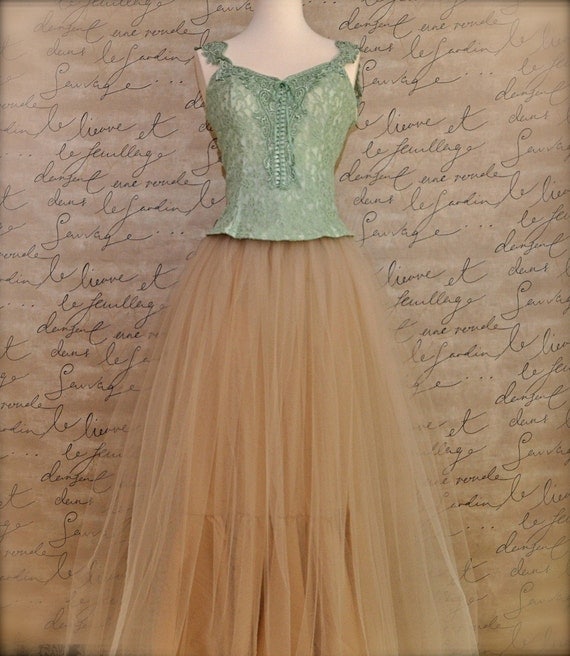 I need to own this you guys.
Would you look at it?


I would totally wear this dress while feeding hay to the big animals,
while collecting eggs from the chickens (assuming they ever lay eggs again),
and while going on afternoon dog walks, all the time reciting French poetry.


I would wear this vintage-feel skirt to harvest sweet basil, clip roses,
observe Oklahoma sunrises, and sniff the wild honeysuckle vines.
I might even clean up now and then and wear it to dinner with Handsome.


It costs $235 plus shipping and I am positive is worth every penny.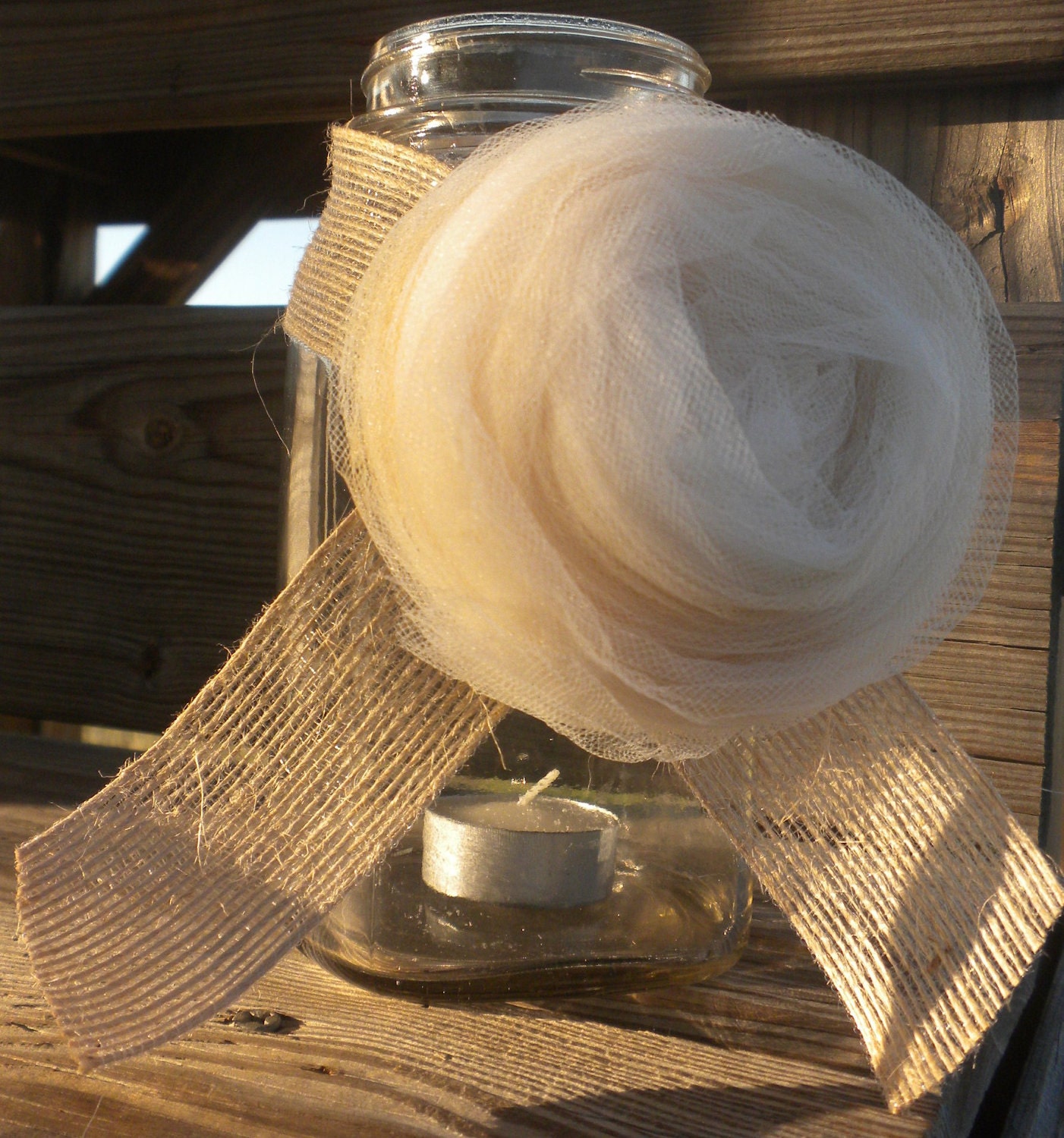 Weekend in the Country
is the Texas Etsy shop where I found this charming gem. It is a tulle and burlap rosette listed as a wedding favor, and I think it would be just lovely as such. I can also imagine it being used in almost any kind of home decor, because of its natural colors and two different textures, and it's only $5!
I might have enough left over after buying my every day tulle prairie skirt to scoop up the remains of this supply! Really pretty.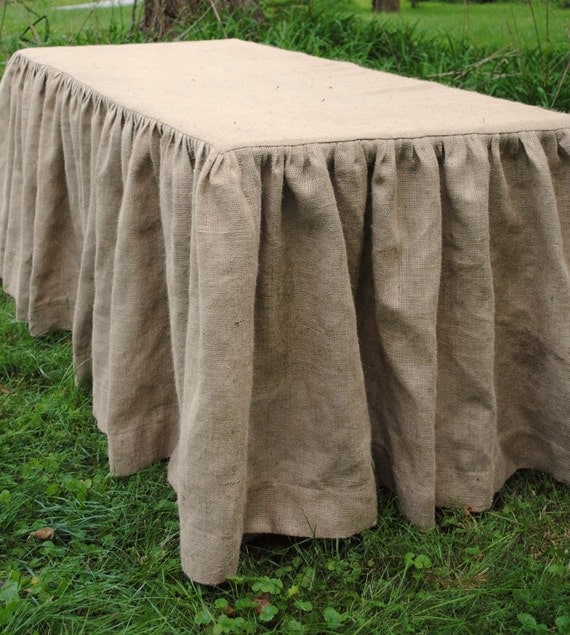 I also must own this, you guys.
Not maybe, not "wouldn't that be nice???"
I need this table skirt as soon as possible.


At $140, this is not unreasonable. And it appears to have a nice deep hem, tight gathers, and is made of a heavy burlap which is not easy to work with at home, so I know they will get many buyers.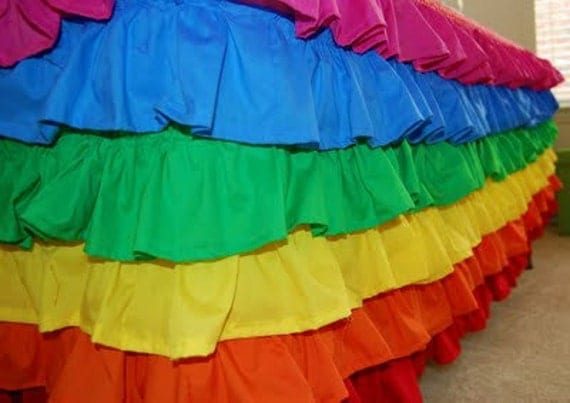 Oh, I'm sorry, did that surprise your eyes a little bit?
After all of the soothing earth tones this is a bit much, eh?


The UNO connection, of course, is the fabulous ruffling.
Not just one tightly gathered skirt like in the burlap creation
but up to S-I-X colorful tiers of the happy stuff.


Strut Your Stuff
is an Etsy shop belonging to a woman named Morgan from Colorado. As if this rainbow ruffled table skirt isn't enough, she also crafts pieces of "wearable art" for children. Really cute, cheerful little shirts and ruffled pants. If you have a little girl in your life who is fun to dress up, check Morgan's shop! Her prices are more affordable than most boutiques, too.
I have to insert here that this table skirt is the inspiration
for an apron I'll be working on in January.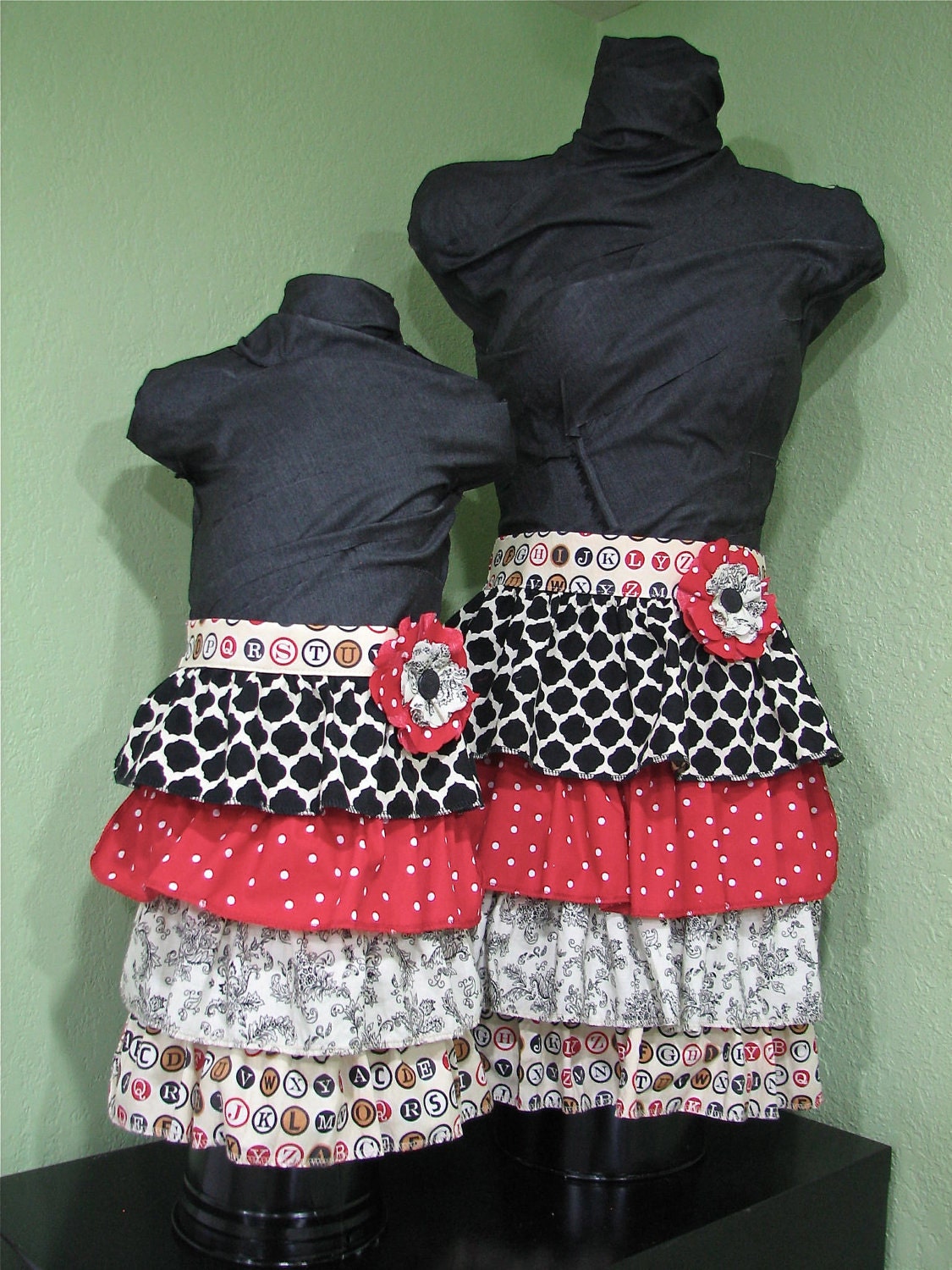 More Than a Memory
is selling these striking aprons!
She is from Anchorage, Alaska,
but I have no idea of her opinion on Sarah Palin.
The ruffles are always cute and I love her fabric combination, but the hip rosette is what makes it extra sweet to my eyes. I also love that she has serged the edges, not hemmed them.
********************
So there we have five handmade items from the Etsy corner of the universe, all connected by different threads. Cheers to every artisan who strikes out to make something tangible out of his or her imagination. You make the world more beautiful!
And thanks, Bitty Bird, for hostessing such a different sort of link up party! I
t was fun having an excuse to look around Etsy,
and I know that my very important mission led me to different shops than I might normally find.